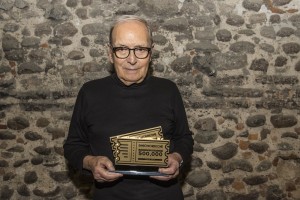 During his sold out concerts at the monumental Arena of Verona, legendary Italian film composer Ennio Morricone was surprised with an award from his concert producer GEA Live to celebrate the fact that he has sold more than 500.000 tickets to his concerts since 2014. His '60 Years of Music Tour', which features over 200 musicians and singers on stage, has been playing to sold-out arenas across the continent and received standing ovations and overwhelming critical acclaim in the media.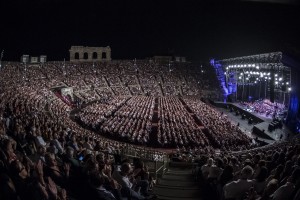 The 88-year old composer conducted two sold out concerts in Verona during the Festival della Bellezza, as part of a large-scale world tour which began in January 2016, to mark his 60-year Anniversary as a professional composer and conductor. His current tour, which will continue to visit European cities throughout the fall of 2017, in combination with his 'My Life in Music'- tour of 2014-5, has now reached the threshold of 500.000 tickets sold.
Receiving his award, Morricone said:
"I feel surprised and honored and moved that such an incredible number of people have come to my concerts. I would like to thank all audience members for coming to hear me conduct my music live. It has been an incredibly gratifying experience for me."
Concert Producer Floris Douwes for GEA Live said:
"This vast number of sold tickets recognizes Ennio Morricone's unique place amongst film composers. The past two concerts in Verona alone have sold in excess of 23,500 tickets. These are the sort of numbers that you would normally see with major pop/rock acts, but which are unprecedented for any composer or conductor of instrumental repertoire"
Morricone has composed over 500 scores for cinema and television as well as over 100 absolute music works. Highlights include his scores for Once Upon a Time in the West, Once Upon a Time in America, A Fistful of Dollars, The Untouchables and The Mission. Morricone's score for The Good, The Bad and The Ugly holds the number two position in Top 200 ranking of best film soundtracks ever composed.
His first work for a western since Once Upon A Time In The West over 50 years ago, Morricone composed and recorded the score for Quentin Tarantino's 2016 movie The Hateful Eight, which won him the Academy Award, Golden Globe, and BAFTA Award for Best Original Score that year.
Ennio Morricone's 60 Years of Music Tour is produced by GEA Live (www.gealive.com).
ENNIO MORRICONE – THE 60 YEARS OF MUSIC WORLD TOUR
Upcoming Concerts
September 2017
19 September              ROTTERDAM, THE NETHERLANDS     AHOY   21 September              PARIS, FRANCE        ACCORHOTELS ARENA    23 September              DUBLIN, IRELAND           3ARENA
October 2017
14 October                  LÓDZ, POLAND                              ATLAS ARENA
16 October                  PRAGUE, CZECH REPUBLIC         O2 ARENA
18 October                  BUDAPEST, HUNGARY      PAPP LÁSZLÓ ARENA
December 2017
1 December                 BOLOGNA, ITALY               UNIPOL ARENA         2 December                 MILAN, ITALY             MEDIOLANUM FORUM